Louisiana State University Awarded 2020 Dance Marathon Hackathon Winner
On Wednesday afternoon, July 8, the inaugural Dance Marathon Hackathon aired during DMLC 2020. The finalists gave four incredible presentations in this Shark-Tank-style event to a panel of judges. Their collective ideas each held great fundraising potential. In fact, we estimate that their four ideas could collectively increase our annual fundraising by nearly $1,000,000 USD #ForTheKids!
We are thrilled to announce the winning idea: Miracle Network Dance Marathon App Makeover, presented by the team from Dance Marathon at LSU, Kaitryana Leinbach, Jack Green and Jessica Bakalis. Congratulations!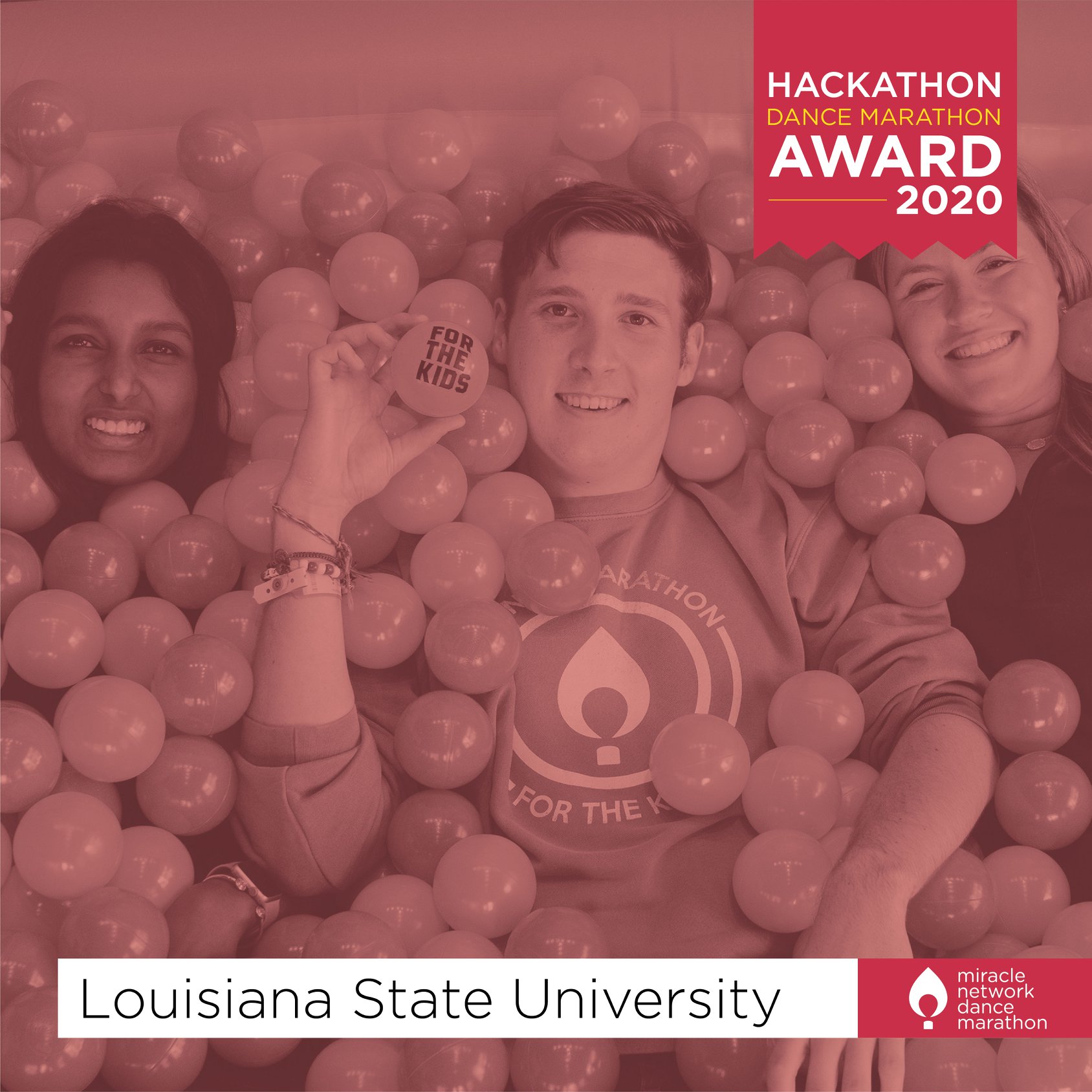 Our Dance Marathon staff will now explore, research, and test bringing Miracle Network Dance Marathon App Makeover to life in the upcoming year!
The winning team has also earned a $1,000 USD donation to their chosen Children's Miracle Network Hospital and will have a choice of a grand prize between:
·      A one time, $3000 grant to their Dance Marathon program
·      A custom DonorDrive theme along with coaching from DonorDrive on how to make their fundraising platform as effective and engaging as possible for their Dance Marathon
·      A trip for up to 3 to Children's Hospitals Week 2021 in Orlando, FL!
Thousands of individuals participated in DMLC last week, many who tuned in to view the Hackathon presentation. If you missed the broadcast, you can revisit it here:
Although not every presentation can finish in first place, the other presentations proved brilliant as well. In fact, we are committing to add all four finalist ideas to our Dance Marathon idea pipeline, exploring ways to implement them in the coming years. We are thrilled to honor each of these runner up teams with a $250 USD donation to the Children's Miracle Network Hospital of their choice!
Our final four ideas:
Although social networking and fundraising apps both exist, this unique concept creatively combines both aspects to fully engage and motivate fundraising participation with an easy to use interface. Year after year, Dance Marathon faces the challenge of lower levels of activation outside of the Big Event. This app redesign allows Dance Marathon programs to maintain higher engagement and excitement throughout the entire year by pairing technology with community in an innovative and intuitive way.
Using various statistical and heuristic methods, this tool would aid each individual program in setting more informed year-long goals as well as provide them with necessary insights throughout the year to design and adjust programming in real-time. This data-driven tool will ultimately help programs grow in a healthy, informed, and sustainable manner and ensure that they are staying on track to meet their goals.
REGISTRATION SPONSORSHIP PROGRAM
A Registration Sponsorship Program that will decrease the barrier of entry to Dance Marathon by finding alternate ways to cover a participant's registration fee. This includes having participants fundraise for the registration fee rather than personally donating, soliciting alumni and other donors to make a specific donation that will cover participation fees for a certain number of students, and soliciting corporate partner donations to cover a set number of participant registrations. Decreasing the barrier of entry can help Dance Marathons diversify their participant population and add an additional way to engage donors and sponsors on a deeper level.
By integrating a virtual live stream into the Dance Marathon aimed at donors, programs will be able to include their donor pool in the culmination of the program's yearlong efforts as valued members of the DM's community. Regardless of what Dance Marathon will be in the future, there will always be a need to have a virtual component. This form of a virtual Dance Marathon can easily be adapted to programs facing circumstances that require the use of technology in a much more integrated way.
Thank you to our judges who weighed in with insightful feedback and questions.
1.        Blair Janis Children's Miracle Network Hospitals: Director, Dance Marathon
2.        Jillian Schranz Event 360: Director of Business Development
3.        Ashlee L. Canty Wake Forest University: Inclusive Program Manager
4.        Maggie Brennan Donor Drive: Client Success Advisor
5.        Kay Robinson University of Central Oklahoma: Assistant Vice President, Student Affairs
Thank you to everyone who came together to make this possible. Everyone's brilliant ideas and hard work adds up to make Dance Marathon an even more powerful program to support Children's Miracle Network Hospitals moving forward! Congratulations to our winning team and to all our participants!