Louisiana State University Senior Jack Green Receives 2021 Miracle Network Dance Marathon Distinguished Leadership Award
From the thousands of graduating seniors who have participated in Miracle Network Dance Marathon at the approximately 400 colleges, universities, and high schools across the U.S. and Canada, 27 students were selected to receive the 2021 Miracle Network Dance Marathon Distinguished Leadership Award for making an exceptional impact within their Dance Marathon program, on their individual campus, and for their local Children's Miracle Network Hospital. To see all of this year's recipients, click here.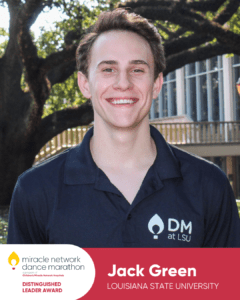 Hometown:  Monroe, LA
Major: Biological Sciences Minor: Psychology and Entrepreneurship
Dance Marathon Involvement:

Participant
Assistant Director of Communication
Production Director
President
Campus/Community Involvement:
Children's Hospital volunteering
Beta Beta Beta College Ambassador
Research Lab
Alpha Epsilon Delta
LSU Discover Day
Awards/Recognition:
Barry Goldwater Scholarship
LSU Flagship Scholar
President's Honor Roll – 4.0+ and 15 hours (Spring 2018, Fall 2019, Spring 2019, Spring 2020, Fall 2021)
Taylor Opportunity Program for Scholars
Dance Marathon Director of the Year
Phi Kappa Phi Fellow
President's Future Leader in Research
Astronaut Scholar Nominee
Post-Graduation Plans:
Jack will be attending medical school after graduation.
What is your proudest accomplishment from your involvement in Dance Marathon?
"We were able to run a virtual Big Event with just one month to prepare. When LSU originally sent us home, we thought we would be getting an extra week of spring break. As news progressed and we learned we would not be coming back to school, we jumped in as a team to convert our event to a virtual format.
As the Production Director, I was involved in producing videos, streaming, and running the live aspect of the virtual Big Event. Because we wanted our event to run as smoothly as possible, we reached out to everyone who initially agreed to speak at the event, and we had them pre-record their videos. I set forth editing the 30+ videos I received in less than a month. During this time, I also had to find the best software to use to stream our event and learn how to use it. Then, on the day of the big event, I ran the entire live stream switching between speakers, pre-recorded videos, and graphics.
Since we were one of the first schools to run a virtual Big Event, we had multiple schools reach out to us over the next year. I was able to share my resources with them and give them advice on what did and did not work. Over the summer at DMLC, our work led to us winning the award for best Virtual Programming for our virtual event."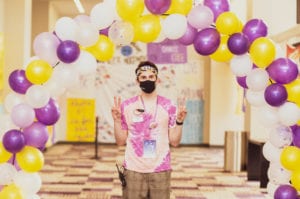 How has Dance Marathon impacted you as a student leader? What specific skills have you developed during your involvement?
"I started out as the Assistant Director of Communication where I was able to hone my communication skills by continually communicating with participants. Then, I became the Production Director. I did not have the skills or experience for this position, and I tried to tell my President. She assured me that I would be helped by the outgoing director, and I would have a team that I would mostly be managing by the time school started. This role helped me to develop my perseverance in uncertainty as well as video production skills, and I continually pushed myself which benefitted me as I stepped into the role of President the next year.
When I began, we had one month to come up with as many ideas as we could for a chance to win the MNDM Hackathon. In that time, our team had twenty-five ideas. We ended up with four of the top fifteen ideas, and we won with the idea for a MNDM app. The app was designed to meet the need for connectivity and engagement during a distanced time. By fighting for the kids at our hospital, I saw my creative, leadership, business, and communication skills grow. Despite the difficult year we were given, we have put in hard work continually, and we have already beat our fundraising total from last year!"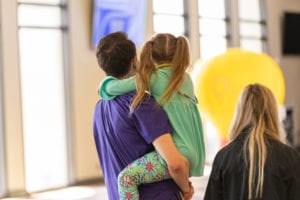 Why do you, personally, participate in Dance Marathon?
"I originally began participating in Dance Marathon as a freshman because I was passionate about children's healthcare. I saw as my cousin went through diagnosis after diagnosis and doctor after doctor, and it made me realize just how difficult an experience like hers could be. I wanted to be part of the change.
Then, in my second year, I applied for leadership to have a larger role within the organization. I was a part of the extremely energetic Participant Relations team. As I was able to meet more people and develop relationships, I quickly grew to love the people that I worked with. I did not know anyone else who would put in hours of work each week to not get paid.
Now, I continue to participate in Dance Marathon because of the change I have seen us make on our campus and in our community. As an organization, we have been able to bring together different areas of campus to care about children's healthcare, and we have been able to positively benefit our community because of it. When I go canning, I regularly have people that come up and donate because they know who we are and what we do. I have been able to meet so many incredible leaders throughout my campus, and I am grateful that I am able to be in this role."
Why should students get involved with Miracle Network Dance Marathon on their campus?"
"Dance Marathon at LSU is one of the few organizations on campus I have seen that allows students to make their own decisions. Most of the organizations that we work with have to get approvals from different nationals or campus advisors. Our autonomy allows us to actively learn and apply our skills. This has led to many alumni using Dance Marathon as a part of their resume or applications, and they are able to give real, quantifiable experiences to interviewers.
Another great thing that DM offers is the ability to get involved in service to your community. There is no better way to learn about the struggles that your community faces and meet some of the great people that make it up than being on the front lines. It's also a great opportunity for us to expand our worldview which has led many to finding their true passion and pursuing it.
Lastly, the people that you will meet in DM are some of the best you can find. It's not common to find people who will put all of their time and energy into fundraising for a children's hospital."
Why should people donate to their local Children's Miracle Network Hospitals?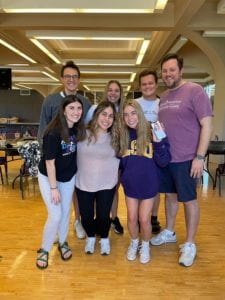 "Children's Hospitals provide so much care beyond just physical healing. Getting to volunteer at the hospital has allowed me to see all of the work and effort that goes into making sure kids feel normal and have fun while they are there. It can be traumatic for kids to be in the hospital, so everyone works to make sure that kids get to do things like play video games, have arts and crafts, and be active and play.
It is also important to know that kids are not just tiny adults, and they require special care. The pediatric specialists at our hospital are some of the only ones of their kind in the state, and it is important that they are able to provide the care that our kids need. By fundraising, we are able to make a difference in the lives of our kids, and if we can make their time spent at the hospital just a little bit better, it is all worth it."
---
Miracle Network Dance Marathon is an international movement, involving over 400 colleges, universities, and K-12 schools across North America that fundraise for their local Children's Miracle Network Hospitals. These students work tirelessly throughout the year to raise funds one dollar at a time by making the ask to family and friends. Their hard work culminates in a 6-40 hour celebration on their campus, where participants have the opportunity to rally together as a community for their local Children's Miracle Network Hospital. Students involved in Dance Marathon gain valuable skills in fundraising, peer management, delegation, and philanthropy. Miracle Network Dance Marathon programs have collectively raised more than $300 million since 1991.
Learn more about Miracle Network Dance Marathon: